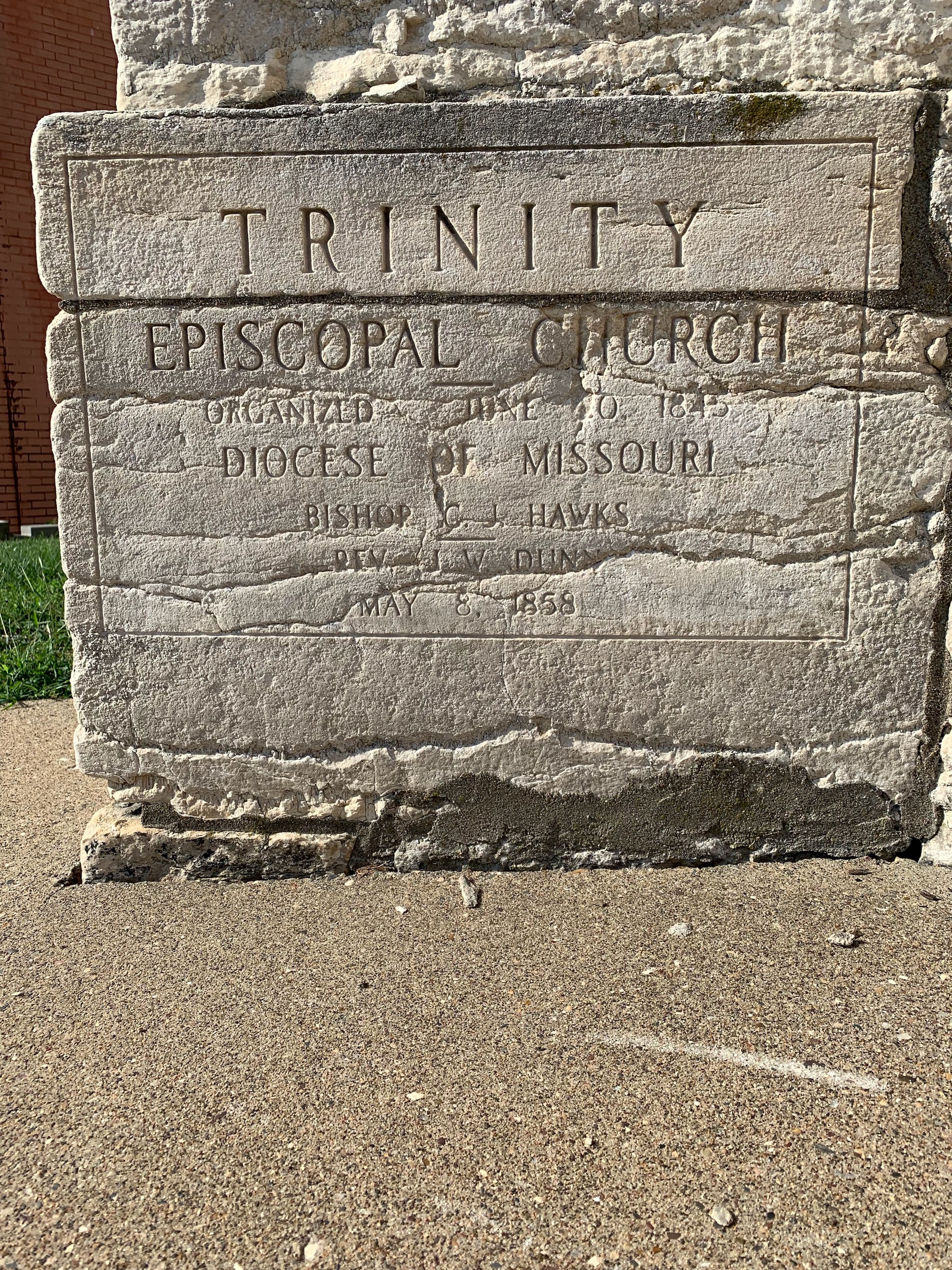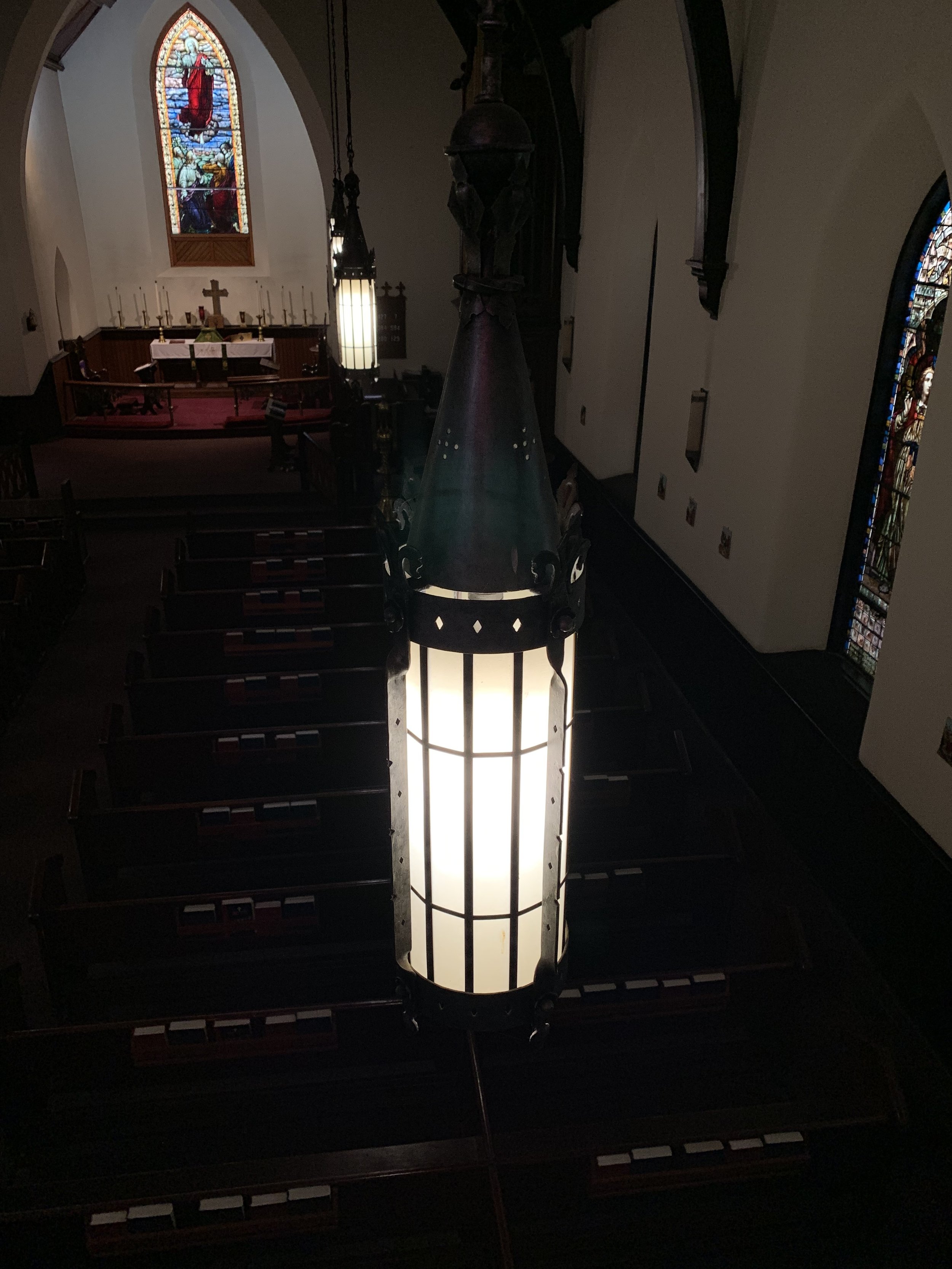 The Sanctuary/Historic Stained Glass Windows
For more than 150 years, the Sanctuary of Trinity Episcopal Church, designed by architect Joseph A. Miller, has stood the test of time. With an interior consisting of a deeply arched heavy wooden beamed ceiling, beautiful bronze lanterns and side wall lamps, an impressive pipe organ and 18 illustriously conceived stained glass windows, Trinity Church is truly a historic marvel. As you step into the church, you are immediately transported back into time and enveloped by Hannibal's past.
Early church members commissioned well-known artists to design the Sanctuary's beautiful stained glass windows. With signature designs by Charles Booth, Emil Frei, Jr. and the Louis Comfort Tiffany Glass Company, these windows are truly remarkable in their diverse artistic style, thematic construction and conceptual execution. With some dating back as far as 1887, they chronicle decades of changes that took place in the community, as well as in the entire country, and showcase the talents of these noteworthy craftsmen.
Charles Booth (b. 1844/d. 1893) was an Englishman who started his glass business in 1880 and whose stained glass window designs beautify a number of churches throughout the United States. In addition to his stained glass work, he was an artist working in watercolor and oils. After his death, Charles Hogeman, who represented him in New York City, continued to operate his business until 1912.
Emil Frei, Jr. (b. 1896/d. 1967) studied art at Washington University before joining the St. Louis-based Emil Frei Glass Co. - a thriving business built by his father, Emil Frei, Sr. Throughout the 1920s and 1930s, he exerted a significant artistic influence within the company and after his father's death in 1942, he assumed the presidency of the firm and retained that office until 1963, when he became chairman of the board until his death. Under his leadership, the company rose to even greater heights as a new generation of artists associated with the firm brought new techniques and different artistic perspectives to the stained glass medium which were considered modernistic and often abstract.
Louis Comfort Tiffany (b. 1848/d. 1933) is known for his revolutionary stained glass technique and inspired religious themed windows. Along with other artists, he developed a whole new industry of glassmaking based on creating a spectacular array of effects with glass alone, rarely using paint, and developed a new method of manufacturing semi-translucent "opalescent" glass that simulated painted effects. Forming Louis C. Tiffany & Co. in 1883, his windows are often considered valuable artistic objects in churches and often reflect the social history of the congregation.
Guild Hall History
The cornerstone for the Memorial Guild Hall was laid on Sunday, November 26, 1961. Kurt Landberg, of St. Louis, was the architect and Martin Construction Co. was the contractor/builder. The campaign for funds to build a new Memorial Guild Hall was spearheaded by Frank Berry. He chaired the Episcopal Advance Fund and Memorial Building Fund committee with the following members: Dr. F.O. Hopkins, Jack Martin, Joseph Raible, Loren Atkins, Dr. F.E. Sultzman, H.F. Harris and W.N. Pettibone. The drive to raise funds started January 14, 1960, and enough money was raised within 18 months to start the project.
For History Fans
If you'd like to learn more about the beautiful stained glass windows in the sanctuary, the self-guided audio tour is for you! All you need is a smartphone and you are on your way!